A new plastic bag ban begins Sunday on Oahu, requiring supermarkets and other stores to charge customers at least 15 cents per bag at checkout.
Buy a Tropical Paper Garden Bag and get thousands of uses from each bag!
---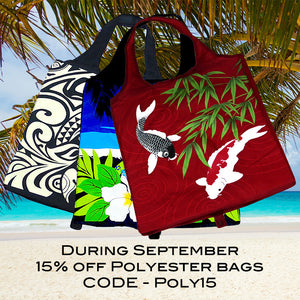 Get 15% off Polyester Bags  CODE - POLY15 Expires - 9/30/17 On Sale are Tropical Paper Gardens Polyester Bags! Great to take on your next grocery store trip! Small and compact; Stop wasting plastic bags from the store and use our reusable bags and showcase stylish designs.  HELE MAI POLYESTER Hele Mai Reusable Polyester Bag | Tropical Paper Gardens Printed design on one side Reduce the need for a plastic bag! Folds Flat for compact Storage Great for transporting foods from the grocery store to your home or kitchen. Light Weight & Easy to Clean - Wipe Down or Hand Wash Cold...
---
• Sale
Get 10% off your first purchase CODE - FIRST10 We welcome you to our store with 10% off your entire purchase Tropical Paper Garden has many Reusable Bags to choose from. Add a touch of paradise to your everyday routine with these tropical designed reusable bags. Perfect for lunches, picnics, gift bags, grocery shopping, and much more. Stop using Plastic Bags, and use Reusable Shopping Bags.  Replace your Grocery Bag with Eco-Friendly Reusable Bags